De nombreux partenaires ont décidé de communiquer « autrement » en 2010 avec Taco and Co.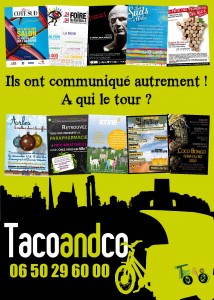 A qui le tour en 2011?
Une campagne publicitaire efficace, originale, écologique et mobile dans le CV d'Arles, c'est possible. Nos vélos tacos sont là pour vous permettre de faire passer votre mesage au plus grand nombre.
Nos supports publicitaires de 1,5m2 situés au dos des vélos sillonnent Arles tous les jours de l'année et vous permettent de bénéficier d'une grande visibilité.
Pour répondre à vos besoins, Taco and Co vous propose différentes formules dont les options n'ont de limite que votre imagination.
Pour tout RDV ou devis complet, merci de me contacter au 0650296000 ou de remplir le formulaire ci-dessous :